Meals
Dinner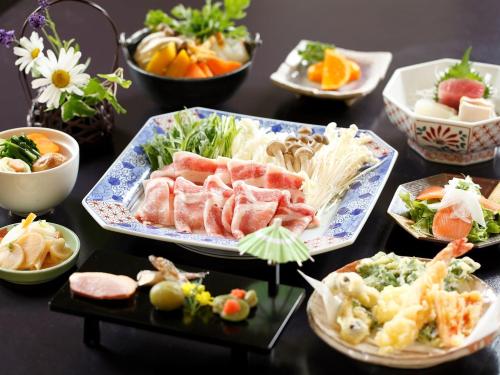 After refreshing in onsen, enjoy the quality of dinner.

We are always attempting to offer tasty and hearty meal beyond your expectation to finish up your fulfilling day with.

For instance, we prepare 10 courses of kaiseki (Japanese traditional multi-course haute meal). (The number of courses may differ, according to purchase of stock.)

It is mainly Japanese style, however, we are trying to serve ingenious meal that you can enjoy till the last piece.

For dinner, you can choose from "Japanese style", "yakiniku (grills)", "shabu-shabu (hot pot)", according to the dinner plans.



Breakfast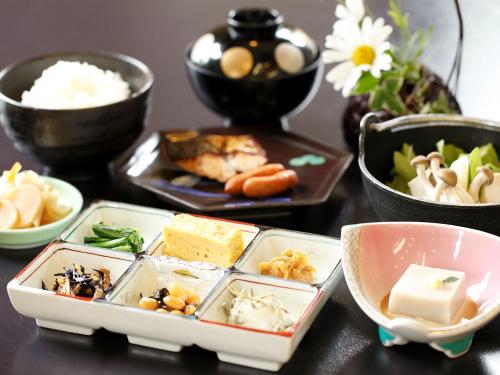 Enjoy your breakfast at "Kaiuntei" in the hotel. (Breakfast starts from 8:00am)
Sprint from the best start with great breakfast.
We serve Japanese style breakfast only.

Breakfast is served from 8:00am.

The menu changes according to the season and stock of purchase.
Kappameshi
Until the end of November!! Kappameshi (grated yam and sliced cucumber on a bowl of rice), the local specialty of Kawaguchiko area. "Kappa Terrace" Open!!
Ume (Standard) 450yen

Take (Superior) 600yen

Matsu (Delux) 800yen

Kappameshi -gozen 1,000yen
You can taste Lake Kawaguchiko local cuisine "Cucumber and Japanese yam rice ball" in restaurant.
* We prepare some other toppings. It may change according to the season and stock of purchase.
"YAMHA PAS, an electric bicycle", is available for rent with discounted price for who take kappameshi at Kappa Terrace or who stayed over night.
Half day / 3 hours 1,500yen
Restaurant「Kaiuntei」
For the guests who are staying with no meal options, the property has restaurant 'Kaiuntei' for guests to have meals. There is also menu for kids.